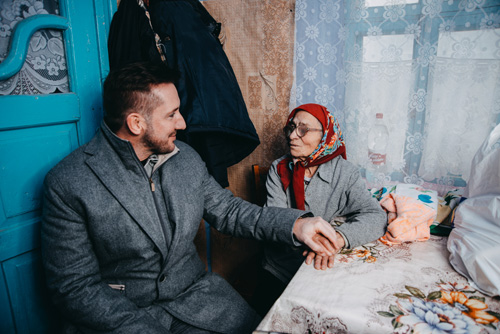 Adopt a Grandmother
Sponsor the most urgent material and social needs of deeply impoverished widows in Moldova and Ukraine. Our incredible staff, mostly former orphans themselves, are trained in social work and deliver food, firewood, and medicine to vulnerable seniors every week. And they spend an hour with each one, taking time to talk, listen, laugh, and share a meal or tea together.
It's beautiful and life-changing for all involved. Isolated seniors finally have a guest, a trusted young person, to look forward to visiting them each week; and a former orphan has a grandparent figure who loves them and is present in their lives — often for the first time in their lives.
It's radical; and it just makes sense.
Tens of thousands of seniors in Eastern Europe have been abandoned. With income of about $1 USD per day, hundreds starve or freeze to death, or die of simple illnesses every year. Not to mention the haunting loneliness and despair which kills scores more.
Heroes International is actively seeking and finding new grandmothers and grandfathers, adding them to our program and matching them with partners like you.
Sign on! Become a sponsor, an "adoptive grandchild", and watch as worlds change.
To be successful, each senior needs either 3 grandchildren at $30/month, OR one sponsor at $90/month. Costs are approximately $40/month for food, $30/month firewood, and $10/month medicine.
Thank you for your generosity!